Along with the closing of 2007 went DMBLGIT for December. Having watched this competition grow over time, it was fantastic to celebrate the end of the year with such a turn out. With over 100 entrants the amazing cast of judges; Bea, Dré, Haalo, Jen, Lara, Lynne and Patricia, had their work cut out for them.
There are such wonderful photographers amidst the blogs we've come to read. Congratulations to everyone.
————————————–
BEST OVER ALL WINNERS
1st Place:
Jenn and Oliver of Chocolate Shavings with Lemon Poppy Seed Cookies
Camera: Cannon 350D
2nd Place:
Syrie Wongkaew of All Things Nice with Dark Chocolate Mousse and Raspberry Tart
Camera: Nikon D50
3rd Place:
Carol Rode of Oh For The Love of Food with Matcha Green Tea Macarons
Camera: Nikon D40X
Winner of Edibility:
Mandy of Fresh From The Oven with Normandy Apple Tart
Camera: Pentax k100D
Winner of Originality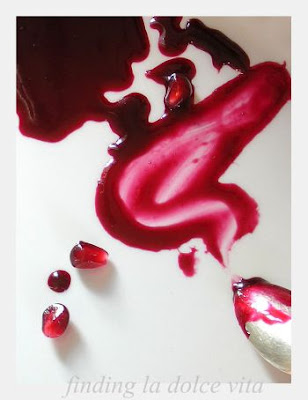 Maryann of Finding La Dolce Vita with Pomegranate Merlot Reduction
Camera: Nikon Coolpix 2100
Winners of Aesthetics
Chocolate Shavings, All Things Nice, both pictured above, and:
Bri Brownlow of Figs With Bri with Pears Poached in Saffron Vanilla Syrup
Camera: Minolta DiMAGE X
Sandra Salerno of Untoccodizenzero with Bread (in) pot
Camera: NIKON D70S
Andrew, who's hard work and great organizing makes this all possible, has allowed for Host Awards.
These are my picks:
Cookworm with Lemon Curd
Camera: Nikon D100
Jaime of Good Eats n' Sweet Treats with Pumpkin Cheesecake with Caramel Sauce
Camera: Canon PowerShot SD1000
Danielle of Habeas Brûlée with Cranberry Quince Sorbet
Camera: Canon 30D
Bee of Rasa Malaysia With Satay Jellyfish
Camera: Canon Rebel XT
——————————————————–

It's been so fun hosting. Thank you to everyone.
I just absolutely loved receiving all of your photos and discovering so many new and wonderful blogs.
Congratulations and good luck next month with Francesco at The Food Traveller!